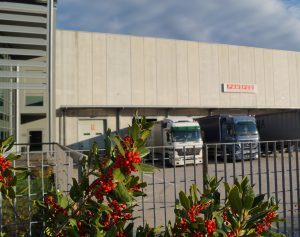 The Pansped warehouse is located at the exit of the A28 motorway, which connects the main northern Italy roads. It is close to the Udine-Venice railway line and it is connected to some European roads.The operating office is located within the Pordenone International Port – Wholesale center ("Interporto – Centro Ingrosso Pordenone").
Thanks to the effective warehouse management and the close cooperation with Sistema Spedizioni our services are guaranteed and safe.The large square of our warehouse allows us to enhance goods handling, optimizing the loading and unloading processes.
We have efficient staff, equipment and adequate spaces (indoors and outdoors) for:
Storage of goods, with or without pallets;
Order processing;
Assistance with surrender terms negotiations;
Consulting for transportation, packaging and conventions;
A real-time transportation monitoring, providing fast and comprehensive answers on any kind of problem;
Assistance with ground handling, warehouse operations and labelling, measurements, visual inspection of the packaging, repackaging, photographic report;
Loading and storage plans management;
Assistance with the making out of documents
A custom warehouse allows us to speed up the customs procedures. The correct execution of customs formalities guarantees fast transportation and compliance with regulatory and tax obligations. For more information visit the CUSTOMS page.